Since its founding in 1983, the National Endowment for Democracy (NED) has advanced democracy around the world by providing technical, material, and moral support to civil society activists and organizations working to develop and strengthen democratic institutions in their own countries. As an independent, bipartisan, nonprofit grantmaking institution, NED unites policymakers, the business community, civil society, independent media, and the labor movement in pursuit of this important mission.
NED's 40th anniversary is a good time to reflect on the historic developments for democracy across our history. The collapse of the Soviet Union in the 1980s, the rise of democratic governance in the 1990s, and the promise of social movements like the Orange Revolution in the 2000s and the Arab Spring in the 2010s made for massive—and largely positive—changes in the way our world works. A decade ago, the increased global adoption of the internet, mobile phones, and other types of technology seemed to hold the same type of promise. But technology, it turns out, is a bit more complicated.
Much ink has been dedicated already to the challenges this now presents. No doubt digital authoritarianism is challenging democracy. While it's true that there are many challenges to acknowledge and confront when it comes to technology's impact on democracy, there is even more to be optimistic about.
Both existing and emerging technologies represent opportunities that the democracy support community cannot afford to neglect. AI tools have the potential to supercharge state surveillance, but they are also enabling grassroots groups to monitor corruption risks, track narratives online, and stay one step ahead of government censors. Innovations in civic tech offer new ways for citizens to voice their preferences as well as to keep tabs on public officials. And internet access remains a vital lifeline for communication and organizing in closed settings.
That's what our Anthology for a Future of Tech-enabled Democracy seeks to explore.
This is an online multimedia collection of thought pieces, art, and works of speculative fiction that comes to us from inspiring thinkers across the globe. Each seeks to explore different topics related to the anthology's overarching theme: imagining a positive democratic future enabled by technology. The pieces were commissioned and compiled by NED's core institutes: the Center for International Private Enterprise (CIPE), the National Democratic Institute (NDI), and the International Republican Institute (IRI).
CIPE sought out innovative thinkers in the democracy and technology spaces to contribute thought pieces examining the anthology's overall theme through the lens of their particular work as an expert, democratic activist, or private-sector practitioner. These include Taiwan's first ever digital minister, Audrey Tang, and the celebrated scholar Francis Fukuyama, as well as many democratic reformers you may not have heard of yet; for instance, a Zambian activist who helps young people harness their democratic power online and an inspiring Argentinian who uses technology to help cities connect, grow, and thrive.
NDI gathered thought leaders for a futures-thinking workshop (to highlight trends and metaphors for positive futures of democracy) and civil society activists for a series of visioning workshops (to identify signals of change in the world today). These workshops resulted in the creation of forward-thinking statements and futuristic user personas that envision what citizens want for the future. NDI also commissioned specially themed issues from three speculative fiction magazines in Latin America, Central West Africa, and Asia that seek to collectively paint a picture of future democratic worlds through stories, poems, and art.
IRI captured the imagination and aspirations of grassroots actors around the world who are already striving to use technology to strengthen democracy. Through a series of future visioning exercises involving technologists, activists, and digital governance champions, IRI produced several futurist short-stories that serve as inspiring examples for others at the grassroots level and beyond to imagine a future that embraces the power of technology to modernize and strengthen democracy.
By turning to individuals from a diverse spectrum of professions, viewpoints, nations, and walks of life, our anthology weaves together a "narrative for the future of a technology-enabled democracy." This narrative not only reflects its authors' collective passions for human rights and dignity in the digital age, but also highlights their unique perspectives on how the private sector, civil society, and policymakers can play a positive role when it comes to the future of technology and democracy.
We at NED are proud to join CIPE, NDI, and IRI in providing this excellent anthology to the public and to our partners in the civic and democracy-promotion spaces. We're sure you'll find what's inside to be unique, inspiring, and useful for sharing with your own allies and local communities.
---
By Damon Wilson | President and CEO of the National Endowment for Democracy (NED)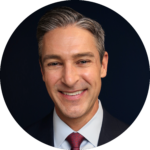 Damon Wilson is president and chief executive officer of the National Endowment for Democracy. Prior to joining NED, Mr. Wilson served as executive vice president at the Atlantic Council, as special assistant to the president and senior director for European affairs at the National Security Council (NSC), as executive secretary and chief of staff at the U.S. Embassy in Baghdad, and as deputy director in the private office of the NATO Secretary General. Mr. Wilson began his career with Save the Children in Rwanda. He is a graduate of Duke University and Princeton's School of Public and International Affairs.