The Future of Democracy Anthology
Amidst rapid technological change, it is more important than ever to have a positive vision for how democracy can meet the needs and challenges of the digital age. The Center for International Private Enterprise (CIPE), the National Democratic Institute (NDI), and the International Republican Institute (IRI) are proud to commission this collection of thought pieces, case studies, and speculative fiction — an Anthology for a Democratic Future. We hope that your exploration of this site inspires you to reimagine a technology-enabled future of democracy.
Foreword
Future of Democracy Launch Event
"We asked democracy experts, reformers, and visionaries from around the world to help envision a positive democratic future enabled by technology. They not only shared the challenges of the present and their hopes for the future, but also the work that they are already undertaking to make that future possible. We hope that like us, you will find their words both useful and inspiring."
Andrew Wilson Executive Director of the Center for International Private Enterprise (CIPE)

"With illiberals on the offensive, democratic forces must demonstrate greater vision and energy than ever to harness technology's potential to defend and advance democratic principles worldwide. Our hope is that the diverse perspectives of a positive digital future included in this Anthology will inspire the creativity, innovation, commitment and action necessary to address this critical challenge of our time."
Derek Mitchell President of the National Democratic Institute (NDI)

"Technology can enable the best of democracy, with digital tools empowering civic entrepreneurs and facilitating open and inclusive governance. We see a great deal of appetite from activists, political parties and governments to channel the ingenuity of the digital revolution to advance democracy and outcompete autocracy worldwide. This Anthology captures their hope, drive and belief in a future where democracy is strengthened by technology – a future we will work towards together to make a reality."
Dr. Daniel Twining President of the International Republican Institute (IRI)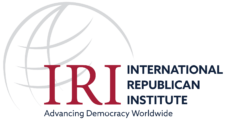 Navigating this Site
The Anthology is divided into three primary sections: Innovations, Visions, and Imagining. Each one gathers diverse perspectives from CIPE, NDI, and IRI's extensive global partner network to articulate a vision for a technology-enabled democratic future. The Innovations section gathers inspiring perspectives from thought leaders and practitioners that are leveraging technology to strengthen democracy. The Visions section showcases survey insights and focus group statements to envision what citizens want for the future. The Imagining section harnesses the power of speculative fiction and futurist narratives to ignite creative possibilities for a democractic digital future.
We encourage you to navigate through each category for different sources of inspiration or jump down to "Explore the Anthology" to engage with the site's content as a whole. We hope this fosters dialogue, sparks ideas, and encourages bold thinking as you develop your own vision for the future of democracy.
Innovations
For a Democratic Future
Learn from thought leaders, practitioners, and democratic reformers who are wielding digital tools and platforms to promote more democratic digital ecosystems.
Explore More
Visions
For a Democratic Future
Gaze into a democratic future with these forward-thinking vision statements and survey insights capturing hundreds of perspectives around the world that envision what citizens want for the future.
Explore More
Imagining
a Democratic Future
Explore speculative fiction and futurist narratives that imagine the power of technology to modernize and strengthen democracy.
Explore More